Welcome to a new kind of school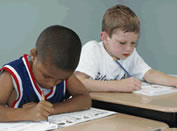 Established in 1994, Century School has set out to become a unique learning environment for children ages 3-12.
Because each child is different, instruction is personalized. Each student's lessons are designed to ensure progress and to provide success--the two things that make learning fun.
To learn more about our program, contact us or read more here.
Upcoming Features
At Century School, we strive to be on the cutting edge of technology. We make extensive use of computers in our classrooms and generally embrace technology throughout our school.
In an attempt to make better use of technology, and to create additional methods of communication between our staff and our parents, we'll be launching an online journal. This journal will be a great resource for parents and a simple way for us to talk about all the wonderful things that happen at Century School on a daily basis.
We'll also be providing an RSS feed to those parents who would like regular udpates sent to them. For more information about this upcoming feature, contact us.